The year 2015 has just ended and it's time to list the results. This year has certainly been a turning point in the development of esport's future. So many things have happened… That's why we will attempt to resume this crazy year by decrypting the 5 signals that show just how good of a year 2015 has been for video game competitions.
– Esport is ready for TV
Is electronic sport finally ready to make its grand appearance on our television screens? It's a fact, the younger members of the public is fleeing TV and, to try to get this huge audience back, media groups are placing themselves on the video game competition segment. While the ESPN group has recruited their "Head of e-sport", Modern Time Group, the first Swedish television has clearly confirmed the direction in which they want to go when they bought ESL and DreamHack. In the USA it's TBS who will be showing, as of spring 2016, its own Counter Strike competition every Friday night during prime time. In Russia several channels dedicated to electronic sport are already starting to gain momentum: one entity branded Game Show on one side whereas the second project is run by the directors of the team Virtus.Pro.
In France, Equipe 21 showcased the Fifa 16 ESWC finals and is getting ready to show their own championship on their channel. On the other hand it's Endemol, the audio-visual European giant, who is interested in video game competitions. The production company is leaning on the shoulders of Norman "Gen1us" Chatrier and Nicolas Cerrato to build its new test program: Legends of Gaming.
– The viewing party phenomenon
Over the past few years quite a few viewing party tests were set up. For the year 2015, we can talk of a real phenomenon that is now fully accepted by fans and players. For the League of Legends World Finals nearly 475 viewing parties were planned around Europe. From now on fan groups or associations are filling up concert halls! Some can greet up to 2 000 people like this one organized by the Lyon-Esport association in the Zenyth concert hall of Toulouse, France. Gamers no longer only follow competitions from their own homes but gather with friends and other passionate players for a whole new experience. These new trends are enabling the creation of flourishing businesses: this year the Meltdown franchise counts 14 bars dedicated to gaming, next year, the brand will count more than 26 bars in 7 countries.
– The cash-prize explosion
This year once again tournament cash-prizes have sky-rocketed! Under Dota 2's tutelage, the most lucrative gaming discipline, the sum of all cash-prizes this year is of more than 60 million dollars. Only the MOBA from Valve was offering nearly 31 million dollars to its competitors. As we were able to show in our report "THE CASH PRIZE – AUDIENCE EQUATION", the cash-prize is a marketing number that shows how healthy the market is. Video game competitions are still very dependent (maybe even too much) on sponsoring but we have seen a real attempt from its actors to diversify and stabilize their activities.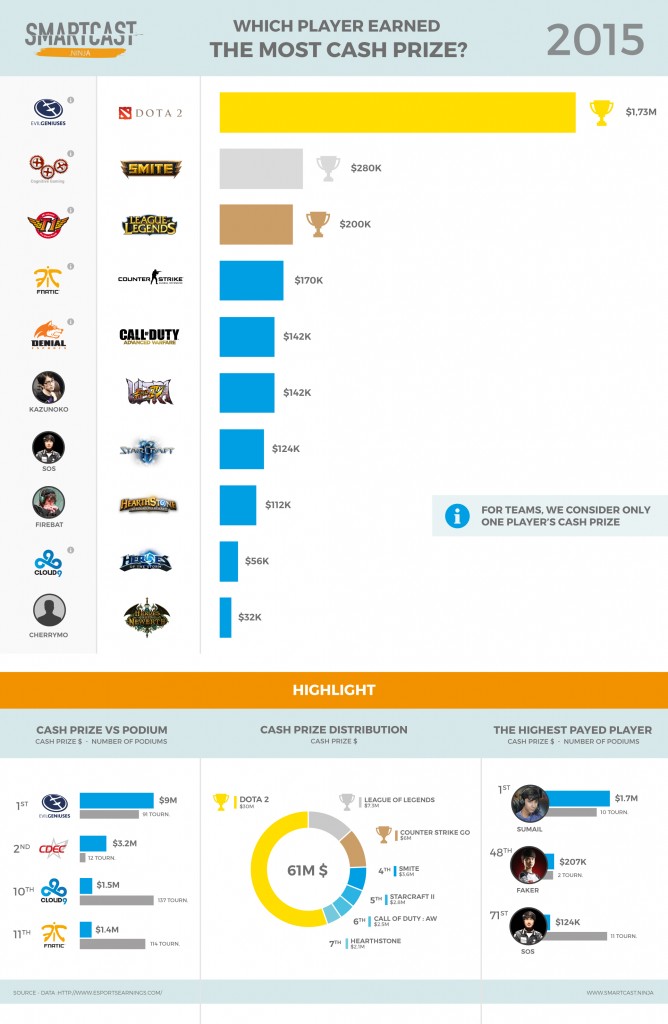 – Audience records
It's hard to say for definite if e-sport is attracting more and more people. One of the latest estimations made in the month of October by the cabinet Robert W. Baird & Co maintains that e-sport is watched by a global audience of 200 million people. If time has taught us to be weary of such studies, we can however say, with numbers to back us up, that the big competitions are watched by more and more people. This year at least 4 competitions managed to reach at least 1 million simultaneous viewers. The finals of the League of Legends world championship were obviously the most watched event. Nearly 14 million spectators were able to admire the live opening ceremony. In second position we have The International with a lower estimation of 4.5 million simultaneous spectators. And in third position we find the ESL One in Cologne that has more than tripled its audience from the previous year and was able to assemble 1.3 million spectators for the Counter Strike finals. Finally the Intel Extreme Masters in Katowice bought together 1 012 745 spectators.
We can also mention that some pro-gamers have become true icons on social media. Matt "Nadeshot" Haag can account for 2.2 million subscribers on his YouTube channel, while Enrique "xPeke" Ceden boasts some 566 000 followers on his Twitter account. These numbers attest to the general public's growing taste for gaming and video game competitions. So no, video game competitions are not watched more than the greatest sport events, but today one thing is clear to all: we are no longer witnessing a niche phenomenon, but a massive and global phenomenon.
– Buyouts and mass investments
What will have captivated the masses attention the most though this year are the huge financial movements that have taken place. If these investments happened it is also because all the trends we have just analyzed are very real and more clearly tangible. Among these investments, there obviously is Modern Time Group, the Swedish television group, which spent 78 million dollars to grab a leading role in Turtle Entertainment. MTG now owns 74% of the brand ESL. But MTG did not stop there and went ahead and acquired DreamHack AB, one of the biggest European video game competition and gaming festival organizers, for the sum of 28 million dollars. We could also talk about the streaming platform Azubu that received 55 million dollars from a new group of investors.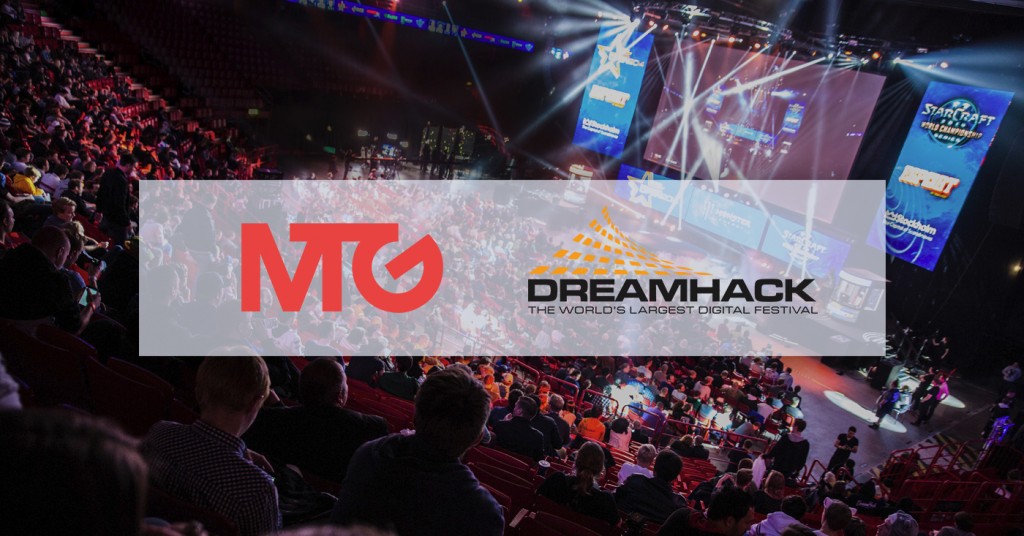 In France, it's the Gameo Consulting company, owner of team Millenium, who was bought by Webedia, the media group belonging to the giant Fimalac. It's not just in Europe that lines are moving. Alisher Usmanov, 3rd richest man in Russia, has invested nearly 100 million dollars last October into the Russian club Virtus.Pro. A colossal investment to develop the club and launch a television project. E-sport is becoming a truly booming business. More and more companies are getting huge successful fundraisings like Hitbox that managed to get 4 million dollars from its investors.
Another indicator, this one with no numbers attached to it, but we are seeing an increasing number of famous people investing in electronic sport. Millionaires like Mark Cuban, TV stars like Ashton Kutcher, Peter Levin or more recently old NBA players like Rick Fox are investing directly into this sector. And seeing the profiles of our new protagonists, it's hard to imagine that it could be a simple gesture of charity or a fan's whim. These people are betting on video games as a business with a future!
Translation : James Berry